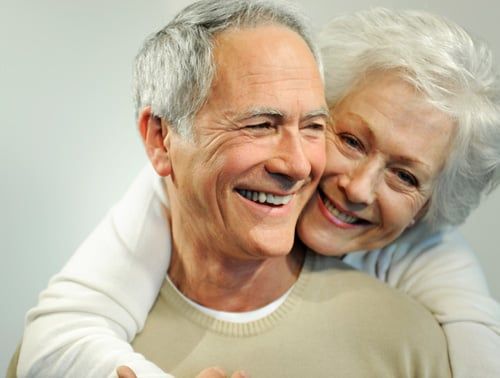 1. Eliminates the need to "cut down" the neighboring teeth to make a bridge.
2. Maintains the jawbone structure.
3. Feels and functions like natural teeth.
4. Does not rely on other teeth for support.
5. Replaces partial plates and may be used to secure loose dentures.
6. Cleaned and flossed like a natural tooth.
In order to place an implant, a couple of steps must be taken:

1) An incision is made into the gums using very precise measurements, then using a very small drill, the jawbone is given a "tap" that will allow the implant to be placed. After the implant is screwed into place, the gums are closed up and the healing process begins. This process can take approximately three to six months to ensure the implant has fused with the bone and created a sturdy base for the new teeth.

2) When the implant is ready, an abutment is attached to the implant, which allows for a new crown to be placed or a denture to be attached.
Do you have missing teeth? It is critically important to replace missing teeth. Eating and chewing with missing teeth can sabotage your bite and lead to incessant discomfort. Missing teeth can give rise to a mouth rearrangement that often results in facial changes that look decrepit. If a tooth is missing or has been extracted for any reason, a single implant can be used to replace the missing tooth. The implant is placed into the bone of the jaw and acts as the new tooth root. After the bone has healed over the implant an abutment can be placed on the implant and a crown can then be attached. This method of tooth replacement looks and feels like natural teeth.
Multiple tooth implants may be placed if you need or desire to permanently replace an extracted or lost tooth. Titanium implant bases are placed into the jawbone to replace the job of the tooth roots. We allow a period of time to allow for the jawbone to heal over the bases before fitting for a crown. Next, abutments are screwed into the bases of the implants to allow crowns to be attached. Finally, custom fabricated crowns are placed over the abutments and will function like a real tooth.
Implant Supported Dentures
This prosthesis is used in special situations for patients who have enough bone in the anterior regions of the lower or upper jaws, but limited amount of bone in the posterior regions and are not candidates for extensive bone grafting.
What is a Dental Implant?
Implants are a tooth replacement option that involves placing a new "root" into the bone of your jaw. Once this titanium "root" has infused with your bone it can be used to support a crown, bridge or denture. These implants can also be used to replace partials and other forms of dentures. The success rate for dental implants are extremely high and is due in part to the fact that root-form implants are made of a biocompatible material, titanium. Because titanium is accepted so well by the human body, it is also used for orthopedic implants, such as hip and knee replacements. Dental Implants have now become the standard for replacing older dentistry and missing teeth because they look and feel like your natural teeth and have a higher success rate than all other forms of tooth replacement. The initial cost is generally higher for an implant over other forms of tooth replacement, but the long term benefits easily outweigh the difference in additional cost. An investment in implant dentistry is an investment in overall health, appearance and well being, as it involves preserving the integrity of facial structures, as well as replacing missing teeth.
A Beautiful Smile Is Waiting For You
Our office provides smile makeovers to achieve the beautiful, natural look you seek. We can reshape your natural teeth to make them straighter and more youthful. Our office is easily accessible and makes it convenient to those living near San Rafael to get the care they deserve.